NOTICE: Photobucket ruined this thread; the images no longer work. I refuse to pay their extortion to restore my hard work. However, I have an archived copy of an early version, with photos, stored at the below link. Feel free to download it and reference it for your own builds.
https://drive.google.com/open?id=0B-...mtzYlBOTmVLZWs
---------------------------------------------------
This is my first build, an e-Fatbike. I installed a BBSHD and 20 AH Panasonic PF Triangle Pack, both from Luna Cycles, onto a Motobecane Sturgis Bullet. I'll try to provide enough details and photos to make the process clear.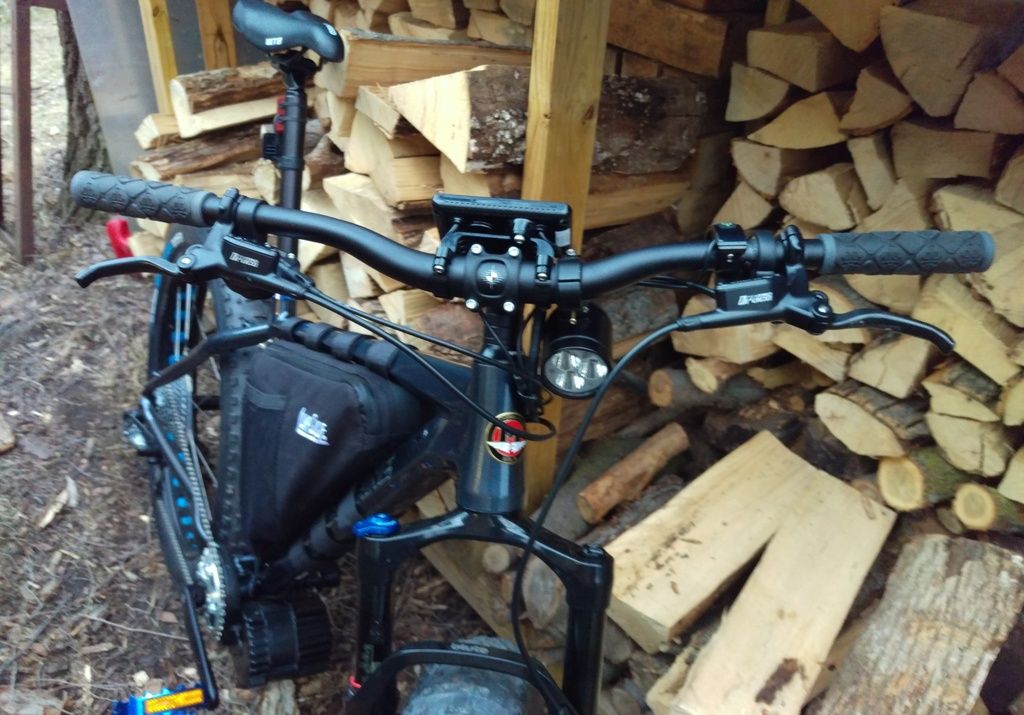 Below, note left thumb throttle replaced the front shifter. That is not a sleek looking looking or comfortable throttle lever, but it isn't horrible, either. I'd like to eventually replace it with the old shifter lever:
This is not the first such BBSD/Sturgis build - MountainTime posted a very similar build at Endless Sphere a couple of weeks ago. I owe him thanks for his advice and help with dimensions, such as confirming that a medium frame could fit my triangle pack, and that a 100 mm BBSHD would not quite fit this frame without shimming and an offset left pedal.
This bike is a blast to ride. I put a 30T Mighty Mini sprocket on it from the start. I only have 5 miles on it, at sunset tonight, after finishing up the build. I was in PAS1 most of the time - it is the highest PAS setting I can keep up with, pedaling for real to help. I was not disappointed by how quiet and powerful this drive is, and I'm nowhere maxing it out yet. Tire knobs drown out the drive noise, which itself is very smooth and pleasant sounding. Sweet!
Frame size is 17.5", Medium. I'm 6'1, but I wanted my 5'4" daughter and wife to be able to ride it once in a while. It fits me fine, and they can stand over the frame. Barely. I cut one inch off the seat tube so it can go low enough for them. I set it to the full recommended extension, and it fits me well. Inseam 36".
I chose that model bike in particular because it comes with a ($600+) Bluto fork and has a relatively open frame triangle for battery clearance. It also comes with nice components such as Mulefut tubless-ready clincher wheels and Snowshoe tires.
I chose the 120 mm BBSD kit. I wanted the crank arms centered on the frame. The right side pedal clearance is set by the motor, and nearly all the shimming was on the left side, so a 100 or 110 mm kit would have resulted in the same pedal spacing anyway, if I added a offset LH crank arm to get the pedal spacing symmetrical. You need to cut off about 5mm from the front derailer mount on the frame to center the install (motor just touching rear triangle) and that gave me the best chainline. That 120mm kit fit very nicely, with only shimming, once the frame was slightly modified. More on that, below...
Here's the crank to frame gap I wound up with.
I wouldn't mind finding some inwards offset crank arms to reduce that gap
, (EDIT: I just realized that's a horrible idea, as crank arms like that would hit my ankles!). It didn't feel bad to pedal.