I originally used the velcro style triangle bag. Eric suggested above that the zip-tie style is a bit more compact, should fit better, and looks cleaner. He generously sent me a Zip-tie style bag to try as encouragement!
Well, Eric was right. It's about a perfect fit for my 20 ah Panasonic PF pack and my Medium frame. I say 'about', because there was enough extra space for one wrap of 1/4"closed cell foam taped around the perimeter, with room left to stuff all my wires neatly above and along side the pack. It's a tight fit like that. So, the bag is slightly larger than this pack, but just enough. Very good fit.
The Zip-tie bag definitely looks better to me than the Velcro one. I can see my nice frame now.
Velcro Style:
Zip-tie Style: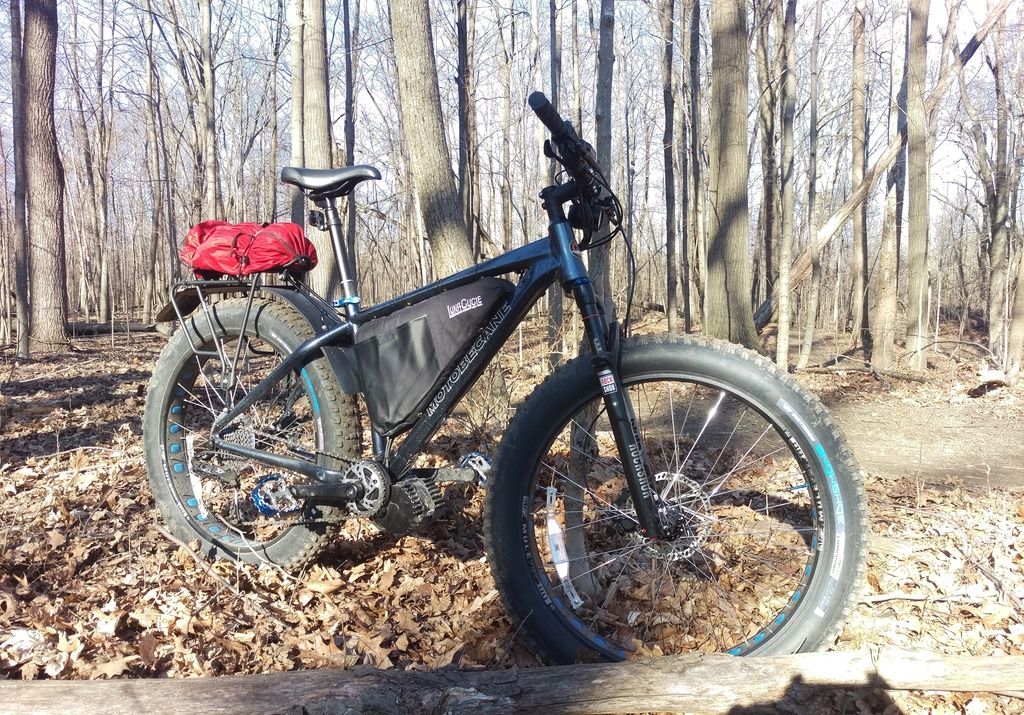 As with my first bag, I used a hot pipe to melt a wiring port at the bottom of the bag, and routed my power, controller, and speed sensor wires inside the bag, instead of up the seat tube to the provided top port. Cleaner. I added an inline connector to the speedo wires (for my Watt Man) to make bag removal easy, too. That was my only cable with no stock connector.
Both of these bags are great.
The Velcro one mounts more securely, and has more room, enough that I could stuff a pump, inner tube, and dial gauge in, too. The fit on my frame was a bit big, and the battery wasn't as well secured inside. It did not come with internal Velcro straps to strap the battery in, like the Zip-tie bag did. And it didn't look as nice.
The Zip-tie bag fits better, looks better, but has less room. It is narrower than the Velcro bag, as well as smaller in side view. The side pockets are solid waterproof material, instead of mesh as with the Velcro bag, so your stuff stays cleaner and drier.
I had added 1/4" foam to the
entire
outside of my pack except the volt meter, and covered the sides with an outside layer of 1/8" polycarbonate, to improve impact protection. It fit with room to spare in the Velcro pack. I had to remove the foam and polycarb from the triangular sides to use the Zip-tie bag. I left the perimeter foam. The zippers are a little tight, but it's fine. Pump, tube, gauge won't fit now; I am carrying those extras in a small stuff sack on the rack now, instead. I needed that bag for a jacket and drink, anyway, on days when I don't bring my giant trunk bag.
Zip-tie style is the one I'm now using. Looks too good to go back. I like it better.
Hopefully that will help folks choose which version they may prefer.