I have over 100 miles on it so far, and it is working great. My first 9 year old Montague got converted to a BBSO2 last winter, and it also worked out real well, but it didn't have disc brakes (wahhh) or a nifty rear rack that also doubles as work stand AND is quickly removable when not needed. I pretty easily sold the old ride to another pilot, for a bit less then I had "invested" in it, basically he paid list for the battery and motor, and I threw in the bike for almost free! The need for better brakes became obvious with higher speeds, and the more mountain riding I was doing. The new one has mechanical disc brakes and they are a huge improvement. One benefit is every time I get it out of the plane and unfold it (twice today) I don't have to fiddle around getting the rim brake brackets aligned so they don't drag, the disc's don't have that problem. I also pop off the front tire every time, and again, the disc is quicker and easier there.
I got the Rohloff bug, once I got it I couldn't get rid of it, except by buying one. I don't REALLY need 14 speeds, but I DO like the big spread between the ultra low gear and the easily over 30 high gear. The price is.... what it is, either you eat it and pony up or you continue to lust after it. I got tired of the lusting, moving on. I now have a perfect chain line, all the time! Amazing, I also like the simplicity of the way it looks, sure it's all complex inside, but it's simple on the out. I went with the Rohloff chain tensioner, and a Cycle Monkey "MonkeyBone" transfer the torque to the bike frame in a way that makes the rear wheel as easy to get off and on as usual. All I do different is unscrew the shifter external box (not changing the adjustment, it stays the same) and that can be done trail side with a dime or a screwdriver for the well equipped. I ordered it with a 19 tooth rear cog, and it was ridiculously low geared, then I got a 18 tooth, better but still way too low geared. Anyone need a good deal on a 18 or 19 T rear splined cog? A few days ago it all came together, with the arrival of my third and last rear cog, a 16 T. They change out in about 2 minutes, using an ice pick on the circlip that holds it in place, it takes longer to take the rear wheel off the bike then change the cog. It still easily romps up my test hill at the end of my driveway, it still has a low gear powerful enough to take you up any trail, and I mean STEEP. Traction loss and/or the front wheel coming up will happen before the thing powers out. Top speed seems to be mid 30's, while I can keep up when pedaling at 30. As I have heard other Rohloff freaks mention, it is real nice to be able to shift in any gear, at any time. Just for kicks every now and then I'll run through all 14 gears when blasting off, usually I shift at least 3 gears at a time, easy enough with the twist grip shifter. But once at a particular cruise speed, it is nice to be able to really fine tune your PAS, cadence, speed, and gearing to arrive at what seems to be the optimum setup. I like 11 th gear a lot, with PAS level 1, the effort required is like you're only dreaming of pedaling a bike, at a comfortable cadence it gives a 18 to 20 mph speed. A bit fast for optimum range but when I have the juice to spare, screw it. 6 th. gear is what I put it in when letting others ride it (and I tell them not to mess with the shifter, just use the throttle or PAS). Full throttle is about 20 mph, fast enough for a free ride anyway, when they come back with a big grin, I then tell them they were in 6 th and it has 14 gears, that seems to impress them. It has the same 60 amp breaker/switch I've used on my other rides, a quick and easy way to kill it when done riding, plus the over current protection can't hurt if something shorts.
I've not ridden much on level pavement yet, hardly at all, mostly gravel and dirt roads with rolling hills. Plus a couple pretty hard core trail rides on the dirt bike trail behind my place (nobody rides regular bikes of any kind on it, too rocky) that made me wish I was on my fatbike, real rocky, real rocky and steep, while I had plenty of power the smaller contact patch of the Montague's tires made itself known. It will be a great ride for anything but the rockiest steepest stuff, as expected, I'll save those rides for the fattie BBSHD. Which brings me to: the derailleur system on the fattie and it's chain line kinda sucks (though seems to work OK) and I have found myself eyeballing the new fat bike Rohloff hub, so far I am holding off but damn it I can think of a lot of valid reasons to have both bikes set up the same, safer and more reliable for 2.
It weighs 56 lbs with the rear rack and 11.5 AH and it's padded bag hanging from the frame tube. With the new Mini 6 AH battery and without the rack, it weighs around 52 lbs. I rode an easy (11 th gear, mostly 20 mph, some just throttle, mostly PAS1) 12 miles the other day on a very soft gravel old rail line, that brought the battery down to 50.5 volts. I now can leave the Mini battery on the bike when folding and sticking it in the plane. This means despite having electrified the Montague, it goes in and comes out of the plane in the exact same time as before, this amazes me! I have already taken a few longer rides with the 11.5 AH frame hung bag, with the Mini also, the two have their own real estate on the bike. Plus, I can easily strap down another 11.5 AH battery (borrowed off the fatbike) on the rear rack, AND..... I can borrow the other 11.5 AH battery out of the crane's Trail Viper and throw it in a backpack. That adds up to 40.5 AH, with a lot of situational awareness regarding range left when in a remote area. That max capacity, when needed, combined with the super light Mini when going just 10 to 20 miles, gives me a lot of flexibility. Testing continues.....here's a few pictures. I really like the unassuming look of it "nothing going on here, just move along," no one seems to give it a second look, just what I wanted.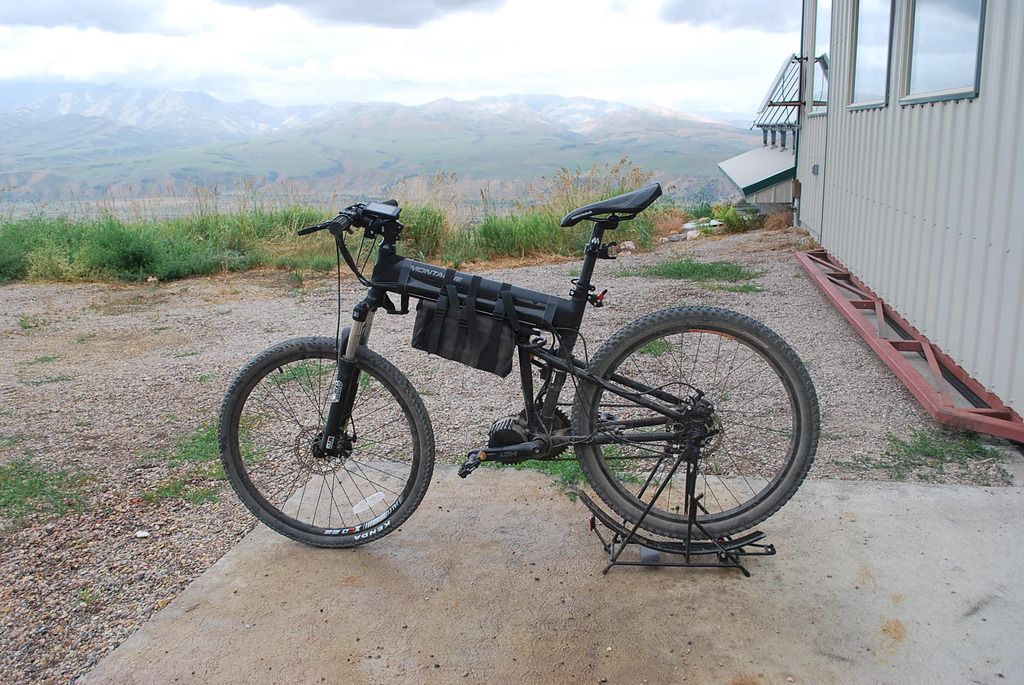 Note the seatpost, my Travoy trailer hitch and lower down on the frame, the hitch that secures the rear rack when it swivels into place.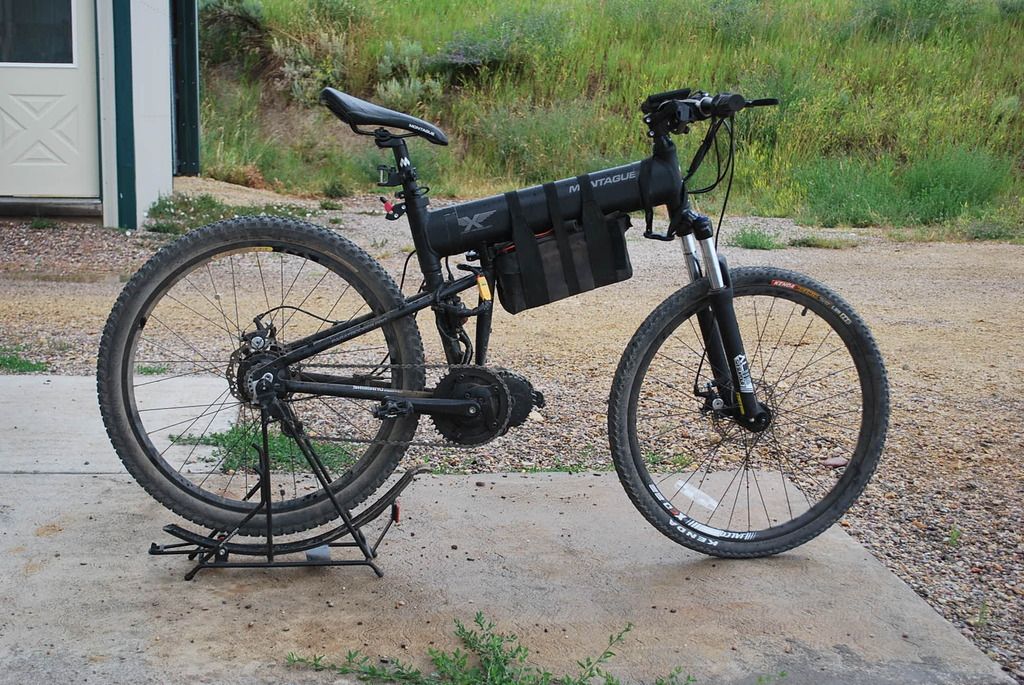 With both the 11.5 and 6 AH batteries. With just the Mini on it , it's pretty stealthy appearing, and it flicks around almost like a regular bike. Hard to get the battery CG much lower.