I've been meaning to write up a post-build log of the e-bikes I've done so far, but I'm going to start with the second one since that is more fresh. I found out that this forum was now opened, so I figured that was good timing. My first foray was mostly done as a proof-of-concept for myself (and my wife) to see if an e-bike was viable for my uses. Since I was trying to do the first as cheaply as possible while still being fun, it was a 1000w rear hub DD kit and a 48V 20ah battery from Lunacycle. That, however, is another story for another time. This is about the second bike I put together...
After using my first bike for a while, I found that it was:
A lot of fun
Not enough for some of the steep hills I ride on (with my fat ass)
I wasn't looking to go any faster on the flats, but I did want a bit more steep climbing capability so I started looking into mid-mount motors. I had been doing research for a while and nearly pulled the trigger on a BBS02 750w, but then one night as I was sleepily browsing the endless-sphere forums, I heard rumours of a soon-to-be released 1000w mid from Bafang. I decided to hold off for a while since it was getting to be fall/winter and I wasn't going to be riding a lot during the winter. I kept watching the forums and various e-bike sites while more info started coming out and found out that Lunacycle was going to be offering the BBSHD for pre-orders. I probably went a bit overboard, but since I didn't know how many would be available right away, I set up programs to watch Lunacycle's mid-drives page for changes so that I knew within a couple minutes of them being available. I was probably one of their first pre-orders.
Here is a list of things I
needed
for this build along with approximate price:
For a grand total of
$2111
for the things I
needed
to complete the build. This can obviously be done a bit cheaper by going with an even cheaper bike, skipping the chainring, cheaper battery, and the motor is cheaper now too...
Additional things that I didn't need, but wanted to add for either fun or comfort:
So, about an extra $160 for now. I'll be adding fenders soon, and upgrading various other components, but that's the nature of the beast...
I had decided that as long as I was going e-bike, I might as well get something fun and not worry so much about weight, so I decided to go with the 100mm bottom bracket BBSHD version and find a fatbike to put it on. This is not the right way to do this, but I got lucky. I looked around for a fatbike and finally settled on the Motobecane Boris X7 due to having good luck with BD in the past. If you don't mind working on a bike, they are a pretty good value.
So, donor bike:
How it looked when it arrived:
After some assembly and after I removed the front derailleur and crankset:
BBSHD slid into place eventually. It was a very snug fit and I chipped up the paint a bit while rotated it to get it all the way through. If you are seeing that part of my bike, things have already gone very wrong anyway... The drive side housing is very close here. It ends up being pressed against the frame after I tightened the drive on but the frame didn't seem to be applying much pressure or bending anything so I left it without a spacer. You can also see the wrench I used for extra leverage on the BB tool while removing the factory installed bottom.
I also opted to get the Luna Eclipse chainring in black. I ended up having to use about 4mm of spacer between the chainring and motor to keep the chainring from hitting the chainstay. The spacer from Lunacycle was just a little too small at 3.3mm. Rather than grinding down the sides of a stack of washers as Karl (from electric-fatbike.com) has suggested in one of his articles, I ended up using some nuts that had just the right diameter that they slid over the bolts for the chainring. Since the outside diameter of the nuts was smaller than a washer would have been, they fit perfectly in the space on the motor side. They were also somehow miraculously the perfect spacing I needed to keep the chainring from rubbing the stay. I only ended up needing one washer on each of the bolts holding the motor bracket to get the bb part flush so the little ridges that go against the bottom bracket would have as much bite as possible. There is now about 1mm of clearance between the chainring and chainstay. This picture is from before I tightened everything down:
Here is a video I made after I had everything together enough to test out the motor. I'm sure there is a fancy pronunciation for Motobecane, but I don't know it. Yes, my wife is awesome and doesn't complain too much when I do this in the living room and use her piano bench as a mini work bench...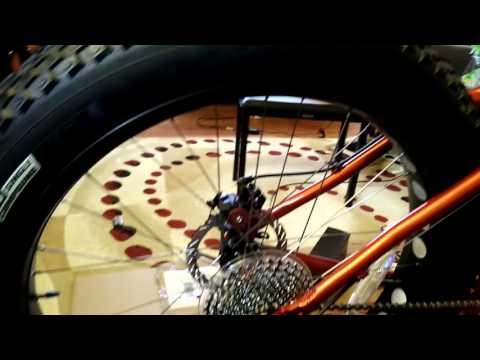 I had chosen to go with the C965 display because... bigger number? I don't really have much preference on the different displays, and the DP C10 wasn't available at the time. I'll probably be upgrading to that in the future and have the C965 for backup.
I did have a problem with the speedometer that I have also read about from others where it goes a little wacky over a certain speed. I've since done some experimentation with placing the magnets closer to the hub of the wheel and this seems to increase the speed at which it goes out. When I filmed the video, it looks like this was around 40-42mph (I'm using another trick from Karl here and using a tire size of 18" in the settings so that when the display shows kph, it is actually a close approximation to mph). With the magnets closer to the hub, the wackiness doesn't start until nearly 49mph - which should be way, way faster than this bike ever sees in real-world use.
The crank arms are Schlumpf 170mm arms that I got after reading so much bad press about the stock Bafang arms. I'm not sure what they are made from (and couldn't find any composition info on them), but they are fairly wide and flat and seem pretty beefy. I also got a new chain since the stock one was a couple links too short with the 42T ring up front. It wasn't happy shifting in/out of the lowest gear and was basically just the straight tight loop from the front to the rear. I went with the KMC X10E chain that is supposedly made for e-bikes. We'll see...
Fast forward a bit and I've got everything put together. I went with a 52v 11.5ah (for the higher amps) shark pack from Lunacycle because they look pretty nice and I wanted this bike looking fairly clean. In another one of the *just barely fits* miracles on this build, the pack comes to rest against the seat tube when it is seated on the base, but it is all the way onto the base and locks in place.
I've only got about 30 miles on it now, but it has been great so far. The drive is very quiet and I can't hear it over the tire/drivetrain noise. The PAS is pretty nice, but I have to set it to 1 on the bike trails to keep the speed reasonable and still be able to be giving input. I may play around with the assist levels at some point. The steep hills that were brutal on the hub motor are fairly pleasant now and I can get up them about twice as fast with a lot less effort. I haven't tried, but I probably wouldn't need to pedal at all, which would have just melted the hub motor. I'm not sure what the top speed is yet, though it is dependant on gearing. I've been up to 35mph on a slight downhill which is about as fast as I ever intend to get it, so it is more than fast enough for the riding I plan on doing. Usually, 15-20 will be just fine with occasional mid-high 20s.
There are several things I still want to change - tires, seat/seat-post, fenders, tidying wires - but it is a ton of fun to ride.
I'll do a write up similar to this for my first build of my hub-motor bike in the future and I have a couple things that I think would make good posts about my wiring for my lights.