For all the beloved Magicycle users, we have launched this special event for all of you! And here is the detail and methods of how you get into this event, to get rewards up to $1000.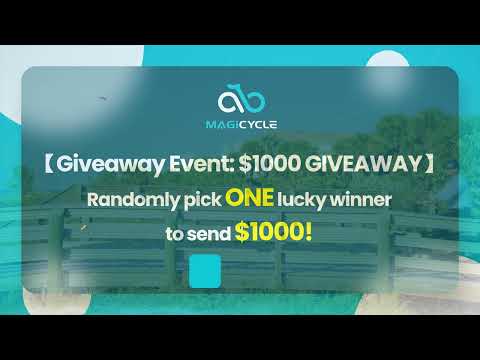 Magicycle will randomly pick ONE lucky winner to send $1000 Gift!
To enter:
1. Follow
Magicyclebike
Facebook page and subscribe to YouTube Channel
2. Repost, tag, and
Magicyclebike
.
3. Comment on the Facebook picture and Tag a friend.
Rewards
Anyone who follows
Magicyclebike
Facebook and Youtube accounts will be rewarded with
1000 Magicoins,
which can be redeemed for products on the official account.
If our YouTube channel:
https://www.youtube.com/@MagicycleBike
reach
7000 subscribers
, Participants will have a chance to win a gift worth US$1,000. Reach to
8,000 subscribers
, we will give away three gifts worth $1,000.
Winner Announcement:
1.
Follow us on Youtube and Facebook, and we will announce the winners on all the social media of Magicycle.
Facebook:
https://www.facebook.com/magicyclebike
Youtube:
https://www.youtube.com/@MagicycleBike
2.
Winners will be announced on
May 6th
.
3.
Participating users need to contact our officials at
gloria@magicyclebike.com
for gift redemption.
For any inquiry related to the challenge, please contact our Magicycle support at
support@magicyclebike.com
.
Last but not least, Good luck & thank you all for your endless love and support!
​