The first being my brain. The second is my knowledge base system. Like most of you here I have a system to keep track of various notes and documents I use for my life, work and family. This mostly consists of files and folders as well as bookmarks and services like pocket. The biggest drawbacks are remembering where I put what, things that belong in multiple places and being able to access my information when and where I need it. To some degree I've found tagging useful for items that belong in multiple locations but that always depends on where the information resides. I loved the web clipper feature of evernote, and I was an early adopter, but I stopped using it a while ago for reasons I can't remember.
My second tool just got sharper and actually works to sharpen my first. My new tool is a service called
Notion
. I wasn't looking for this but I discovered it during my morning news reading. Here's a quote from this
review
:
Notion is a workspace platform for organizing, processing and managing information, data, content, and media\files.

Notion combines the capabilities and features of several online tools like task management, note-taking, web clipping, spreadsheets, collaborative documents, databases, and more.
This tool is free for single users but charges for teams. As a retired web developer I am impressed by the elegance and ease of use in Notions user interface. With no programming knowledge users can create powerful applications using a relational database and markdown. No database or markdown experience is required. Notion has many tools to import and embed data from many services already and a new api is in the works.
I started to build a tool like this to manage my projects. I had multiple projects from multiple sources going on at the same time and I was getting tired of switching between projects and having to find all of my notes and files. So I started building a javascript based tool to run in my browsers. I soon got bored with this crude tool though and quit using it.
In researching this new tool I discovered this
youtube playlist
created by Notion user August Bradley. He doesn't really describe how to use the tool, he describes what he built with it and how you can too. The tools to build an application like his have been around if you're a software engineer but the real power comes from the end user. This is an example of what happens when you remove the engineer and let users create and refine whatever they want.
I've only discovered this recently and I'm currently implementing August Bradley's excellent LifeOS in the playlist above. I am so excited about this tool that I had to share it with this community. If you do nothing else today you need to check out this tool. You're future self will thank you.
Here's August Bradley's introduction to Notion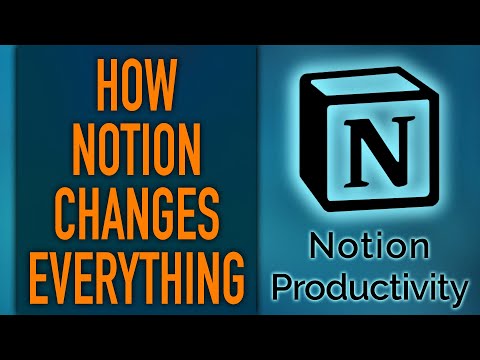 The talking head above uses Notion for his whole life so his system is complicated. You can use it for so many things, like his for his whole life, or create simple things like trip planners or recipe boxes. You can create blogs, wikis and other "pages" that can be shared with the public or private people.