Troubleshooting random issues
Shutdowns and contact maintenance
Sometimes a shark battery's contacts may bend back far enough to not provide a stable connection to the cradle, resulting in cutouts and/or a causing the contacts to overheat. This may be more prone to happening if the shark is not reinforced to frame with a velcro strap. We recommend periodically checking this area to make sure the contacts are in the proper place. If they are not you can bend them back into place using a screwdriver.
Please take care not to short out the terminals against each other or anything metal nearby.
NOTE: this image is for reference only, it's possible that your battery has more terminals or looks slightly different, if you are unsure, be safe and email support.
For the newer generations of sharks with 4 or 5 pins:
If this issue does come up, in order to prevent it from happening again keep this in mind:
Would be good to clean any carbon buildup off of the pins with a wire brush if possible (just the pins, not the contacts). This will help power flow better.
If being used near ocean we recommend a light coating of dielectric grease on the pins such as Permatex 22058.
If you have soldering skills and the cradle is only using one set of pins to run wiring to, then it would be useful to run the wiring to multiple pins in the cradle, the neighboring pin on both side is same polarity as the closest wire. Both pins on either side are capable of delivering power and if soldering the same wire to both pins it cuts the current in half for each pin. As such it is less likely to heat up since there is less bottlenecking of power.
You need to start reinforcing the pack to the frame, this is critical. Maybe that means velcro, or even just using bungees. Checking to see if you can improve how you have the cradle mounted to frame to make it more sturdy can also help.
For a video on how to adjust contacts see below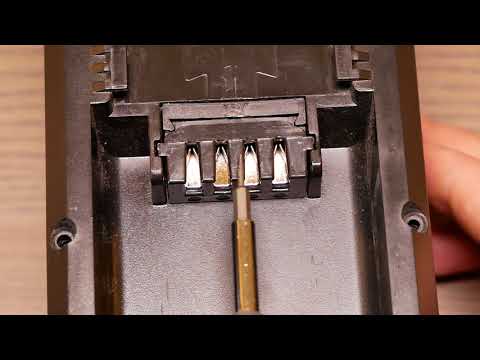 Repairing burnt out discharge contacts
If the contacts between case and cradle are destroyed you have 3 options depending on availability and model.
Replace case and/or cradle (if it can be sourced)
Replace just the contacts, perhaps with upgrade bullet kit (currently only usable with Shark)
Bypass the connection by running wiring that would go to the discharge on the case through a hole in the case (seal hole with silicone once done)
For more info please see the video below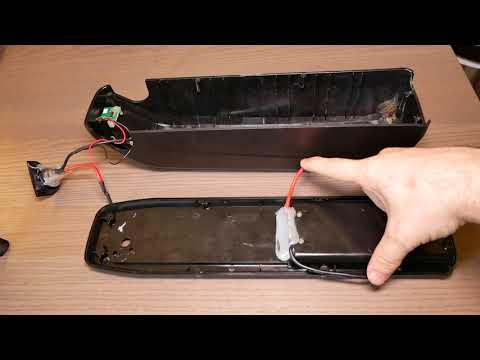 For example pics of what a bypass may look like (this will depend on your model and how you go about it)
Another bypass example, this one on a carbon shark
A picture of what the retrofit connector assembly looks like
(connector available here)
Intermittent shutdown
If you need to check internal wiring, take care to inspect that the BMS wiring harness is fully plugged in. Here's a couple instances where the plug came loose and caused intermittent problems until plugged in further:
Another thing to look at is any connectors inside the pack. In the picture attached there is a bullet connector, this is a good example of a connector that needs to be checked. This connector and any other internal wiring may vary depending on the battery type but this is definitely something to have a look at if the battery is opened for inspection.
Burnt out charge port
Sometimes this will be replaceable by changing the case, assuming replacements are available. If not the charge port can be changed out for an XT60. In the example below an XT60 male was used. Ideally you would put xt60 female on the battery itself and put the matching xt60 male on the charger. Fairly straightforward modification though, just remove original port and wire it up with an
xt60 pigtails set.
Then fill in any empty space with silicone. In the pictures below the actual wiring was done with butt splices, though you can also solder it or use
solder sleeves.