Luna Eclipse Folding Ebike
Assembly / Setup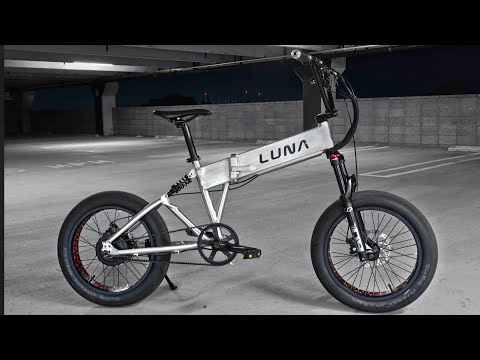 (there is an expansion wedge on the end of the grips, you tighten this grip with a screwdriver from the end)
Warranty :
1 year warranty against factory defects, excludes shipping.
​
Q and A
Is battery removable?
Yes battery is removable, it is within the frame but can be easily removed with a Key.
Spare batteries are available here.
Range?
A commonly accepted rule of thumb for ebikes is 20wh/mile. This bike has a 672wh battery. If we divide 672/20 we get 33.6 miles. This will vary depending on a number of factors like weight, speed, terrain and tire pressure. This is not a guarantee, but may be a reasonable estimate. If you only use pedal assist this number may be higher, how high it would be depends on what level of PAS you have it in.
Can this be used on trails?
Yes with the right tires (20x4" knobbies)
Can this be used with fast charger?
Yes you could use 48v Luna Advanced charger, just need a barrel adapter and limited to 4-5amps charge current
Canada shipping?
Yes we can do that, Canada shipping options have been added to checkout for this bike
Pas and throttle?
Yes has both
Max weight?
Roughly 275lbs (Please note that the more weight the less range you will get)
Max adjustment on seatpost?
6"
Belt size?
CDX 132
Can I change the gear ratio?
Yes you can the hub motor uses a standard HG freehub with a 9 spline belt pulley with spacers and in front you have a standard 130bcd pulley, but you do need to replace the belt to a larger one if you decide to change. You could also convert it to chain if needed .
Display compatibility?
Not compatible with other bafang displays sold
Seatpost diameter?
33.9mm
Compatible rider height?
This can be comfortably ridden by folks even 6'4"
Can battery be charged off of the bike?
Yes there is a standard barrel port (2.1mm pin type) directly on the battery, the plug on the frame simply opens access to the plug on the battery itself.
Battery weight?
7 lbs
Can battery be locked into the frame?
Yes
Rim inner width?
3.5"
Fenders and racks?
It would certainly be technically possible to add those things. There is a mount on the fork you could add a fender too. You could put a basket on the bars easily using common handlebar mounted racks. For rear fenders there are a few kit options out there specifically for 20x4-in tires but might require some small modding and perhaps one of our no drill kits if you need to add a couple m5 mount points. There is also possibility of using many seatpost mounted rear racks or even a seatpost mounted fender; this modification would be fairly easy.
Box dimensions?
61x28.5x12 (note this is not a guarantee, box may be different in future depending on production run)
Folded Dimensions?
45x35x22". Can go way smaller if you loosen handlebars with an allen key and fold them down as well.
How much assembly is required?
Not much, please see video above
Display settings?