See below for manual. For previous versions please see this page.
Congratulations on your purchase of the Apocalypse scooter….
It is sure to be a thrill ride but please treat it with a lot of respect.
You will find your scooter a joy to ride and it is safe if ridden properly. But take your time getting acquainted with your new vehicle before operating on the higher power levels.
This scooter is sold for race use and private road use only.
It has 4 levels of operation… on low power it would be road legal. There is Eco, Turbo, single motor and double motor. The least power would be Eco with one motor.
Important operation notes: (please read all)
This scooter is not a toy...use with caution...for race use/experienced riders only

The led light burns very little power...we recommend to always ride with lights on.

Make sure all quick releases are tight before riding.

The front brake is on the right side...use with extreme caution.

This scooter is shipped to you in power level 1… you must hit buttons for Sport and Double to get full power potential. (only do this when at the race track).

Like all electric motors the wheels want to spin fast, if used in a way where this cannot happen (like climbing a mountain while overloaded) this dumps heat into the motor and could burn it out. Do so at your own risk.
---
How to turn on
A long press on the power button will turn the scooter on. If it does not turn on make sure your light switch is in off position (scooter will not turn on with light on.)
Notes on operation:
The Apocalypse has 4 power levels. We recommend that until you are familiar and comfortable with the operation of the scooter, keep it in power level 1. We ship it in power level 1 which is a street legal 700 watt setting. We recommend you get acquainted with your new scooter in level 1 before taking it to the race track.
On the display you will two buttons, one that says Eco/Sport and one that says Single/Dual. You want to activate Sport and Double for full power.
---
Scooter weight:
76 lbs with latest Apocalypse v.2
Notes on voltage
The latest version of this scooter is 60v nominal (a quite high voltage for a stand-up scooter) Fully charged is around 67 volts….. Empty will be around 48 volts. Scooter ships with a charger for use with 60v batteries.
The battery BMS should automatically shut off around 48v.
Sometimes the BMS (battery protection system) will shut off the scooter before it is fully discharged (because of voltage sag). The easiest way to get the battery going again is to charge for a few seconds. It is a good idea to carry a charger with you on long trips in case the scooter shut down.
RFID key fob lock:
You need this to operate the scooter. It prevents unauthorized use.
Do not lose it!
---
Safe Scooter Operation
Check tire pressure and overall tire condition before every ride.
Check the nuts on top of the shock and make sure they are tight.
Learn to stop quickly through practicing emergency stops.
Do not ride on max power level unless on the race track
---
Charging precautions
Charging your scooter

We ship this scooter with a special charger that does 60v.

Your scooter has awesome range…. Unless you are planning an extra long ride we recommend you only charge your scooter to 80 percent.This will greatly extend your battery life.

If you are going to store your scooter for a long time we recommend you charge to 80 percent first.

Charging your scooter is one of the most dangerous parts of operation.

Only charge with a charger that is made for this vehicle.

Do not try to charge a damaged battery.

Your scooter contains a giant lithium battery 1200 watt hours.

Even though this Panasonic battery is relatively safe, all vehicles with large lithium batteries are a potential fire risk and should not be charged inside your house.

Pick a good place (prefer outside) to charge your scooter.

Do not charge your scooter inside your home or office.

Do not charge your scooter unsupervised.

Do not leave the charger plugged in overnight unless your scooter is in a fire safe place.

Scooter is water resistant but not waterproof. Do not store outside. Do not ride through the ocean or otherwise expose to saltwater. If using around water, be sure to use the built-in plug to keep water out.

Battery has XT60 inside on discharge connector in the deck (if you need to modify it you may need to know this)
---
Notes on programming display:
Not many program options on latest (v.2) Apocalypse. It is KPH only, not MPH. Only program settings are voltage display for different battery voltage, pole position (do not change this), and autostart vs. push start (do not change this). Hold up and down simultaneously to enter programming. Note: We do not recommend changing any of these settings
P0- Voltage (60)
P1- Wheel size (12)
P2- poles (15)
P3- Kickstart on/off (blank)
Troubleshooting and Maintenance
Changing the tire or patching a flat
The wheel is a two piece that can be separated by removing a few hex nuts. After the nuts are removed, the wheels come apart and tire just comes off.
The Tires are CST 90/65-6.5

The Tubes are 6.5 inch tube for 60/65-6.5 with an angled valve.
Scooter not turning on
The RFID keyfob has a cr-20-32 watch battery in it, and it can die, the RFID on the remote does shine a blue light to easily check if its dead or not.
If the keyfob is not powered the scooter will not power on, so make sure you have checked this if your scooter is not powering on.
Make sure the battery is charged, when you plug in the charger does the fan come on and does the LED show red?
Can you disconnect the plug to the display then reconnect it to bypass keyfob?
Can you make sure you press the power button on the remote then power the display?
Bypassing keyfob
If you want to bypass the keyfob, (like say you lost the keyfob) you can unplug the display and plug it back in which causes it to power up and run.
Charger not charging battery regardless of charge state
Could be an issue with the charger, the plug, or the charge port.
Please see this link for electrical troubleshooting
---
Sparking when charging
As with any ebike or other lightweight electric vehicle, you want to plug the charger into the wall outlet BEFORE plugging into the scooter to avoid power flowing backwards into the charger capacitors.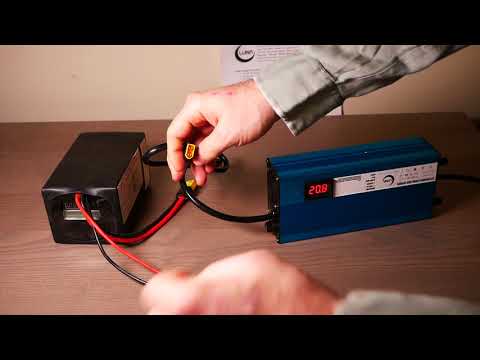 ---
For Only one Motor Working:
The buttons are very confusing, so I think we can solve your issue very easily.
If the yellow and red buttons are NOT pressed - one motor only.
If RED button IS pressed Yellow is NOT pressed - two motors running at full power (if at level 3, if at level 1 it is at a lower power).
If RED and YELLOW button IS pressed - two motors running at 'eco' power (lower power for the level - both button pressed on level 2 may still be faster than RED button PRESSED on level 1).
---
If you develop headset play
There's a set screw in the collar that that the light mounts to. Another set screw in the pinch collar. If you loosen both those collars and slide them up they you can get to the nuts for adjusting the headset. The pinch collar moves easy once the 2 bolts and the set screw are loose but the lower collar has a seal in it and it takes a lot of force and wiggling to get it to move up far enough to see the nuts. After you have exposed the nuts you need a Park Tool HCW-15 36mm wrench and an adjustable wrench. The park tool wrench is thin so it will fit over the lower thin nut, holding it in place while you loosen the other nut.
---
HOW TO CHANGE BRAKE PADS
Brake pads are Kool Stop KSD721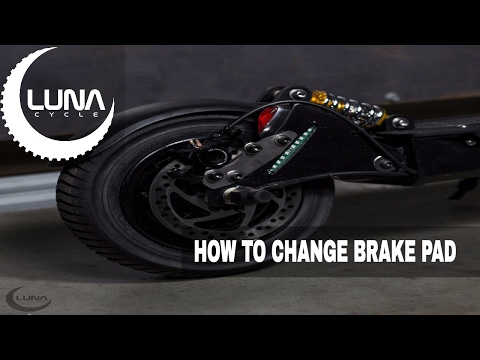 ---
Loose charge port
This is what the charge port should look like (design subject to revision)
the port is threaded and it goes through a hole in the deck, then there is a washer and a nut. Tightening the nut should keep it in place.
Take care not to touch the inside of the charge port with any metal if doing this or it will short.
If your nut has fallen off you might need a new one which you could probably get from Home Depot. I would recommend using Loctite on the threads so the nut does not come loose.
---
How to center the caliper on scooter
For the brakes this can be adjusted like a bike caliper. What you do is loosen the bolts on the caliper so it can be moved around laterally. If the caliper can be moved, when you pull the brake lever it will automatically center the caliper over the rotor. Keep pulling the caliper while tightening the bolts and it will stay in this position, it is now centered. Might take a couple minutes to get the hang of but it's a great skill to learn, works on any bike or scooter with disc brakes. See below for what the caliper looks like, with a couple arrows pointing to the bolts. Depending on the frame there may be one set or two sets, one set if it is "post mount", two sets if it is ISO mount using an adapter.
---
The deck wheels are damaged
IF you knocked it and the thread is stripped on the scooter you can just buy a standard M6-1.00 nut and put the nut on the back of the mounting plate.
IF you also damaged the bolt it's a M6-1.0 35mm long hex bolt
If you damaged the sleeve to well you can
just get some roller blade bearing sleeve to replace it (click me)
IF you lost the whole thing well you can just get some skateboard wheels and bearing for 6mm axle and it should be good!
---
Advanced troubleshooting
If after replacing the dashboard (or if it lights up just fine) or if you have intermittent issues, throttle issues and such these 2 video might come in handy
Part 1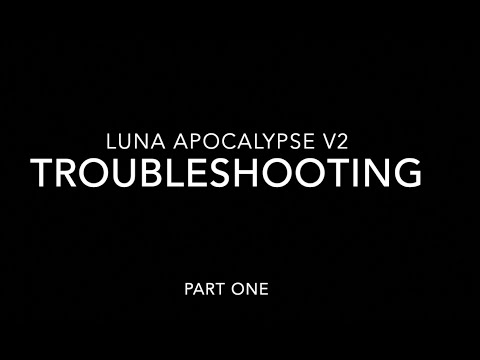 Part 2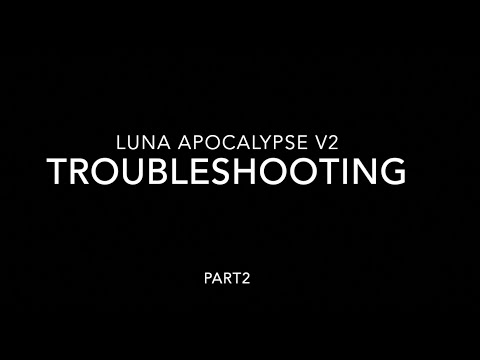 ---
Parts