For Scooter Not Turning On:
1) Make sure the battery is charged, when you plug in the charger does the fan come on and does the LED show red?
2) Make sure the Front Light (Green button) is NOT PRESSED. If it is PRESSED (on) it will not let you turn the scooter on.
---
For Only one Motor Working:
The buttons are very confusing, so I think we can solve your issue very easily.
If the yellow and red buttons are NOT pressed - one motor only.
If RED button IS pressed Yellow is NOT pressed - two motors running at full power (if at level 3, if at level 1 it is at a lower power).
If RED and YELLOW button IS pressed - two motors running at 'eco' power (lower power for the level - both button pressed on level 2 may still be faster than RED button PRESSED on level 1).
To change the levels (1, 2, or 3) we have made a video here:
---
HOW TO CHANGE TIRE ON A LUNA SCOOTER
Metal tire levers are required. If at all possible we recommend having a professional bike shop do this for you as it can be very difficult.
---
If you develop headset play:
There's a set screw in the collar that that the light mounts to. Another set screw in the pinch collar. If you loosen both those collars and slide them up they you can get to the nuts for adjusting the headset. The pinch collar moves easy once the 2 bolts and the set screw are loose but the lower collar has a seal in it and it takes a lot of force and wiggling to get it to move up far enough to see the nuts. After you have exposed the nuts you need a Park Tool HCW-15 36mm wrench and an adjustable wrench. The park tool wrench is thin so it will fit over the lower thin nut, holding it in place while you loosen the other nut.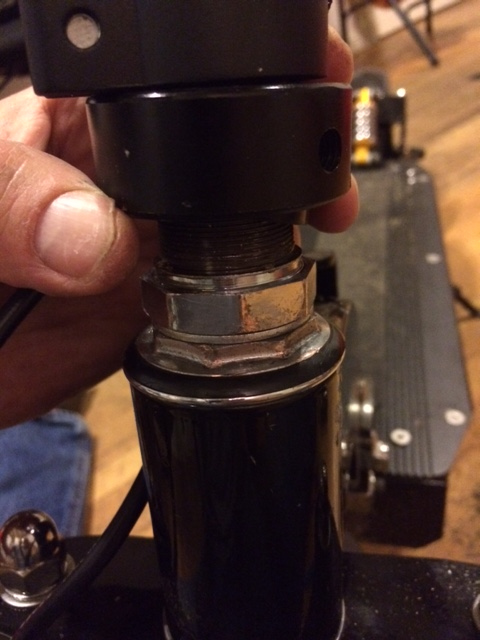 ---
HOW TO CHANGE BRAKE PADS


---
HOW TO UPGRADE PHASE WIRES (FOR OLDER MODELS)


---
Loose charge port

This is what the charge port should look like (design subject to revision)
the port is threaded and it goes through a hole in the deck, then there is a washer and a nut. Tightening the nut should keep it in place. If your nut has fallen off you might need a new one which you could probably get from Home Depot. I would recommend using Loctite on the threads so the nut does not come loose.