Unboxing & assembly:
This bike is shipped in a box so some assembly required. If you are unsure on how to assemble the bike and also setup it up (checking the fork and shock pressure and adjusting the derailleur) you can watch the 2 unboxing videos we linked or you can also go to your local bike shop to have it assembled and setup for you.
Please make sure that you installed your wheel spacers, they go on each side of the hub. Pre2021 bikes have 2 different spacers so make sure to install them on the right side. 2021+ bikes have 2 identical spacers.
.
.
---
WARNING:
Like any bike, NEVER use a power washer EVER (not even a jet on a garden hose). Never spray water on hubs, pivots and motor, hand wash only and rinse it with a spray bottle or weak rain type of jet from your garden hose. Never submerge the motor or battery in water. In fact we recommend you to only wash it using a rag and a water spray bottle that is it. Even with good care chances are that you will get some squeaks eventually so don't be afraid of lubing the pivots
Get yourself a bottle of tri-flow oil and put some onto your frame pivots and also the motor spindle seals to avoid squeaks and creaks.

https://streamable.com/3pqg58
---
BEFORE RIDING
Charge your battery fully, let it rest for one hour.
Go over all the bolts before your first ride, especially the axle bolts, headset , stem & top cap Click here to see how to adjust the headset & stem. Also make sure to tighten the rear axle, see if the nuts at both ends of the axles are tight and that there is no play (side to side) on the cassette. if unsure please watch this video, it shows at the beginning the 2 nuts that keeps the axle/hub assembly together : https://www.youtube.com/watch?v=Nf_K...ature=emb_logo
Check if both brakes work fine and if the pads don't rub too much on the disks. If the brakes are spongy or if you have too much drag you will have to so a brake adjustment or bleeding.
Check the tire pressure, too low and you can pinch the tube or rip the valve off due to slippage. Too much pressure and it wont ride good off road.
Move over to the rear and check if the rear axle is solid & suspension components are secured. If the rear shock is loose t then you much tighten the nut to the torque spec (it's written on the nut)
Check Spoke tension and recheck them after a few rides, they can come loose and you can rip nipples out of the rim or worst. If unsure how to properly tighten spokes and true a wheel, please take the wheel to a trusted local bike shop.
Check the front fork and rear shock, verify that it has proper sag, if not add or remove air in them.
---
General info
Shifting: Take care not to shift under load, especially if going up steep hills, as this can be hard on your cassette and chain. Let off the throttle, or the PAS, then shift.
Display is a special display that works only with this bike, no other display will work for it. It uses CAN communication so it will not work with any BBSxx / Ultra series display. This display also has a USB port, a nice surprise. To change the basic settings of the display hold down + & -. To reset the trip odometer, select trip and hit + and - at the same time. Take care not to over tighten the mount on the display!
There is a key to lock/unlock the battery from the frame. The position of the key does NOT affect power. Please note that we do not currently have spare keys so take care not to lose the key. We recommend to store the key at home in a safe place. Without the key you can not remove the battery.
Please be careful when turning the key. It may make it drop out without much warning once you have turned the key, so be prepared for that by holding the battery as you turn the key.
Rear sprocket has 12 gears but is limited out so only 11 are used, as the 12th gear may skip due to chainline. You can adjust this to use this gear by changing the limit screw on the derailer but please note it will make it intermittently a bit noisy in this gear.
The battery is charged with a standard barrel. This means you can use something like the
solderless barrel
in conjunction with
48v Advanced Charger
or
48v Mini
to charge the bike if preferred over the included charger.
This bike has a temp sensor and high temp cutoff to prevent damage to the motor/controller.
At high temp it will scale back the power. If heat continues to rise, it will briefly shut down to protect the internals.
The chainring of this bike is a standard 32T 4 bolt 104 BCD Narrow-Wide chainring (stock chain length is 116 links). As such there are many aftermarket rings available for it if you want to go with a larger chainring, 38T will fit, 40T could fit depending on the brand you get. But 42T will be really close to rub on the chain stay so make sure to double check! You can change the chainring without removing the chainring spyder. A 38t will raise the top speed to around 28mph.
Stock chain is 116 links
If you install a Luna 42T 104 BCD ring you will need a new 126 link chain.
Tapered steerer, 1.125 x 1.5 headset
Headset ZS44 and ZS56 (zero stack)
31.8mm on the bars, with a length about 32"
Clamp on the stem is 31.8.
Seatpost diameter 31.6
Combining the front 32T and the 11T rear you should be able to reach close to 22mph at over 100rpm (crank rotation), see below spreadsheet of the speed in each gear VS various cadence RPM.
So if you bought this bike for speed rather than Enduro (its intended purpose) then you will probably want to swap to a larger chainring!


---
DISPLAY
DPC-240
(Note for folks that ordered with the high performance ludicrous option: as with all luna ludicrous mods the display will show wattage as half of actual. If you want a accurate wattage reading, wire in a watt meter
as demonstrated here
)
The red arrow points toward the power button. Hold down for 5 seconds to turn on.
Here is a manual on how to use the M600 dashboard, just click on this link to open the manual. Thank you Brad for making it!
Optional 860C color display
Please click link to be redirected to the product listing for more info
Video walkthrough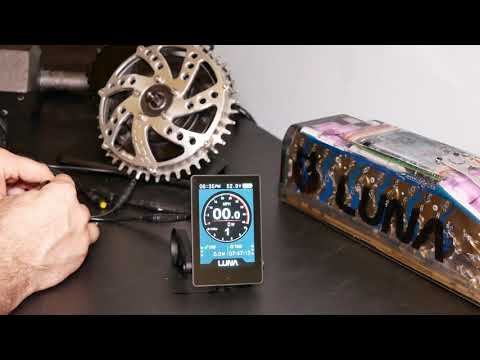 ---
TROUBLESHOOTING: Please click the following links
BASIC Troubleshooting (M600 Motor & battery related)
Advanced troubleshoot (X1 Battery related)
How to remove the M600 motor
---
Replacing the X1 main harness:
With the motor fully removed ,carefully tie dental floss or a used shifter/brake cable (or any flexible small cable) to old harness at display / throttle plug , pull from bottom and remove old harness leaving guide wire in the frame . Carefully tape or tie guide wire to new display /throttle plug and push / pull gently til plugs come out of hole, be careful not to pull too hard. The junction where the throttle /display split it too big to fit thru frame hole so it stays inside the frame.
New M600 main harness
---
Maintenance & mechanical troubleshooting
Rear wheel maintenance
The rear hub is adjustable so it must be maintanced every couplle hundred miles, if you forgot and your rear wheel or rear hub feels loose or rear wheel is wobbly (again not a slight play but loose and wobbling) Or maybe the thru-axle does not full thread in, don't panic and watch this video, it's just likely the cone nut on the disk side that gotten loose. And while you're at it inspect the inside of the hub and bearings. If you rode the bike for too long with a loose axle then it's possible that you damaged the freehub or even the hub itself.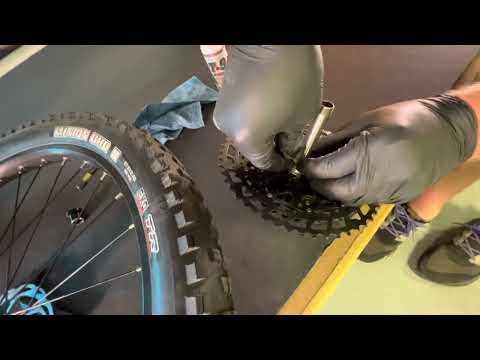 For newer bikes (Galaxy paint mid-2021+) the rear hub is non adjustable.
Newer hub design
As you can see the inner axle (not to be confused with the thru-axle) is held in place by the 2 bearings so in order to remove it you need to remove the bearing. So Do not try to remove the axle unless you need to service/replace the bearings. If you need to replace them you can just use a non-marring mallet to tap the axle out from the cassette side, the bearing will pop right off, then put back the axle in the hub and use the mallet again to pop the other bearing.
Waterproofing the connections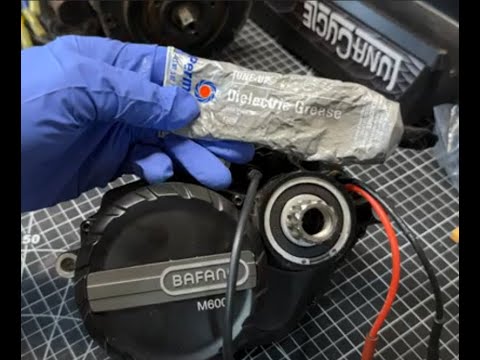 Headset is loose, fork rattles and/or and cannot tighten the top cap more?:
The X1 does not use a a standard star nut pressed into the fork steerer tube, it uses an expansion plug (AKA wedge plug or compression plug). Over time the wedge nut can loosen and move up the steerer tube. All you need to do is to adjust it a little down further.

Instead or explaining how these work and how to adjust it and tighten the headset just watch one of these 2 videos that explains how to adjust it. It will fix your issue!!!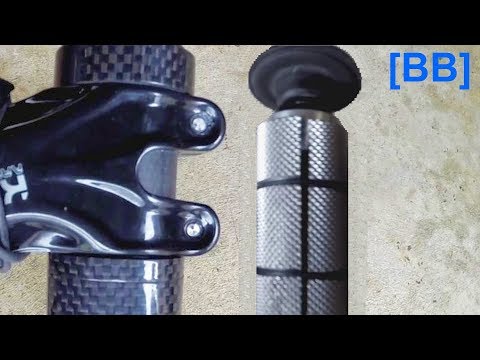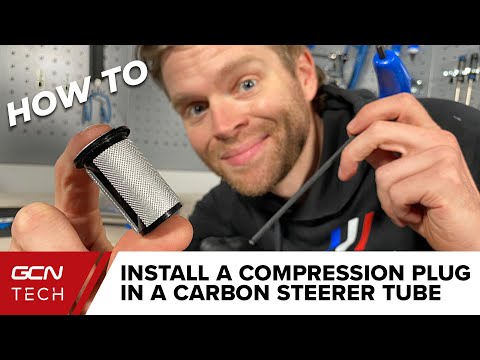 Suspension pivots are squeaking
Get yourself a bottle of tri-flow oil and put some onto your frame pivots and also the motor spindle seals to avoid squeaks and creaks.

Watch this quick video on how to do it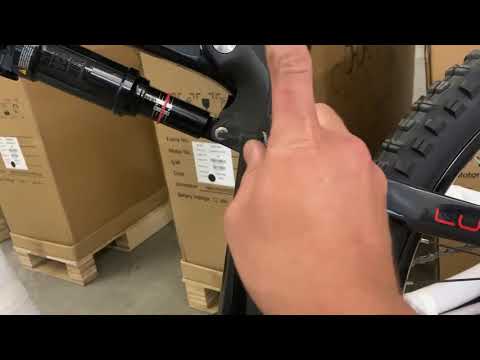 IF you need to take out the lower shock mount to clean and lube it this is how it's assembled, the numbers are just incase you need to order one, you can let us know the # you need.


.
---
Advanced controller programming:
This drive cannot be programmed like the other Bafang mid-drives unfortunately. It uses the Bafang dealer tool called the
BESST
. IT can only can flash a new firmware, calibrate a controller and change a couple minor settings
Also changing the controller will require a BESST tools with
dealer access to calibrate the new controller to the motor




CLICK THE PICTURE TO GET THE ONLINE TUTURIAL ON HOW TO USE IT
---
Customer reviews and unboxing videos:
(please note early adopters had some included swag as a thank you; tshirt, bottle, handwritten thank you etc. This is not something currently included with later production runs)
Dan's unboxing:
Support notes: in Dan's video were he install the right pedal he says turn counter clockwise... it's not counterclockwise but clockwise like he did on the video!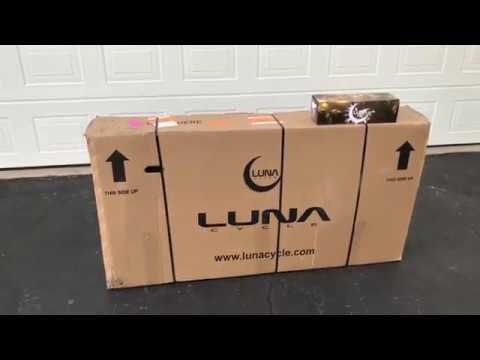 Brad's unboxing: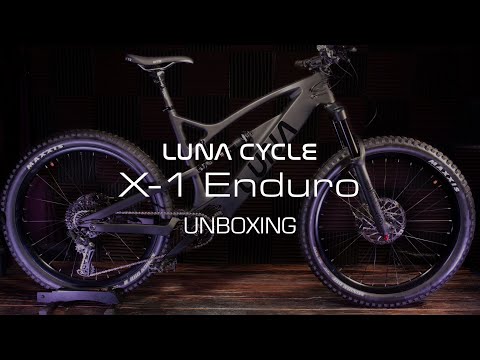 Brad's dropper seat post fix :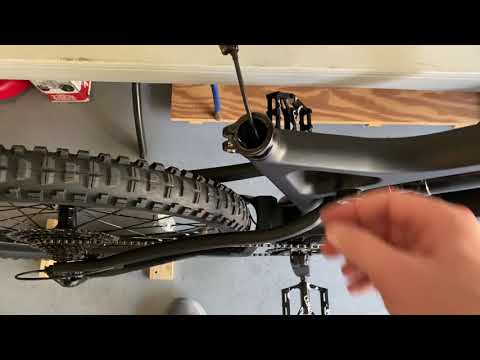 Brad's size comparison to a 26" standard MTB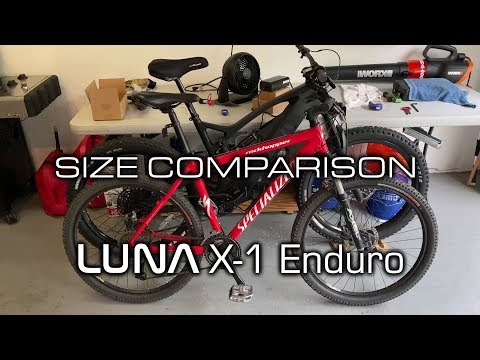 Dan's noise testing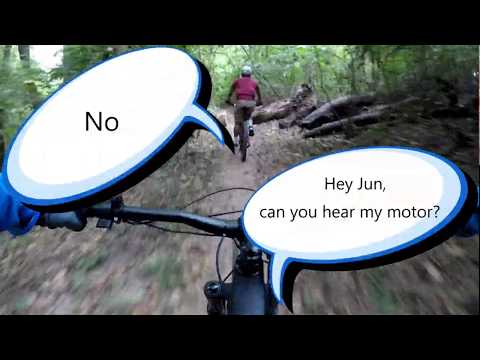 Dan's friend test ride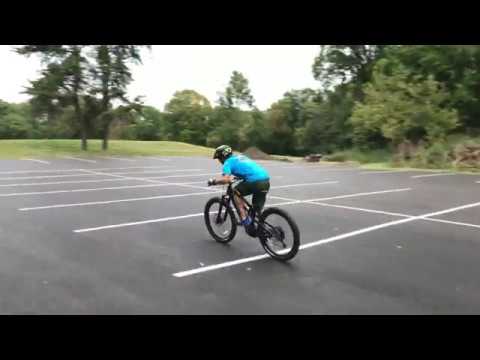 *Staff note: the videos we linked are from some customers of ours (Dan and Brad), they were not paid or asked to do this, we simply reached out to him to ask permission after the videos were posted on youtube.
---
Mods
This is a 3D printable mount for Upstand or Corki bike stand