---
Read our manual here.
Watch our video here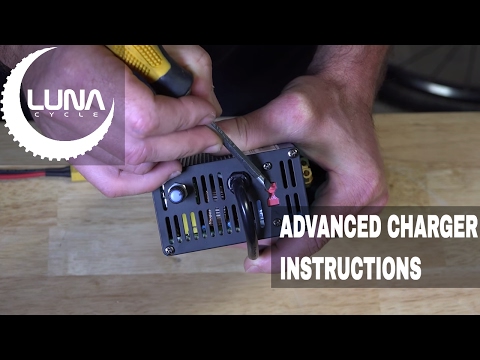 If you have any issue after using it following the instructions in the video, and are using an XT60-barrel adapter, please check the adapter.
Do this by first unplugging it from the charger. Then plug the barrel into the battery and test for voltage with a multimeter on the other end (the part with the xt60).
Troubleshooting charging and electrical issues
Why the charger has different voltage than the battery
Beginners Guide to using a Luna Charger
How to adjust the Luna Charger
---
FAQ
How do I use this with a hardcase battery pack?
If you buy this charger as part of a combo with the battery we will know to include an adapter that will make it work, if you buy it by itself then please purchase the adapter. What adapter you need will vary depending on the battery. Currently most of our Advanced chargers have an XT60 Male on the end of it, for plugging into the XT60 Female on a battery. Most often a hardcase battery will require the use of a barrel adapter, and most often the adapter for this would be this
XT60 Female to Barrel.
If in doubt you can go with the
solderless barrel
and completely replace the XT60 on the charger by simply cutting it off, inserting the wires and tightening the terminals with a screwdriver.
My charger looks different, what is the difference?
This charger is constantly being improved and updated , the switches and functions have changed slightly over time.
---
General Troubleshooting
- If the charger does not work properly, please make sure the charger and battery are connected properly.
- The voltage display will light up even if you are not plugged into the household current. Look at the red LED on the back of the charger to make sure you are getting power.
- The charger should be used in a well ventilated area.
- The aluminum case is an important part of heat dissipation, make sure it isn't covered up or smothered.
- Check the fuse on the back to see if it is burned.
- Unplug the battery and then plug it back in to reset. (Sometimes this is needed after changing the position of the percentage charge switch)