Safety Notice
This motor controller is powerful enough to melt a motor, wires, destroy a battery and break bones. With great power comes great responsibility! Don't try to break stuff, because you will!
The controller comes with a default configuration that should work for even the wildest users. As you can tell from the extreme power density achieved, these motors, wires and power electronics are already being pushed to the limit.
We are offering it for people who know what they are doing and will be responsible with this kind of power (know what gear to ride in, understand battery limits, etc).
We prefer to sell this kit to our existing bike customers only. If you are a new customer you may need to convince us that this is the controller you want. This is for people who have owned the stock or ludicrous V1 BBSHD and want more.
Luna is supporting a fully Open Source platform named VESC®, which means users could potentially change any parameter of this motor drive, and have full access to the source code to change or improve fundamental features. Luna builds come in read-only mode to deter people from changing safety-critical parameters, but we know its only a mild entry barrier.
Modifying the default motor configuration is NOT advised as it greatly increases the likelihood of property damage and severe injury -and source code changes are far more dangerous-.
It is NOT legal to ride this on public streets or trails. We sell this controller for private property use and race/track riders.
Required tools and hardware
BBSHD drive unit

Allen (Hex) screwdriver/key set

A display (Luna/Bafang/Eggrider). For 72V systems, an eggrider display is required with THIS special firmware. No special firmware needed if you have a 48V or 52V setup

Datalogging is only supported on Android devices.
Installation
You can follow the BBSHD controller replacement video: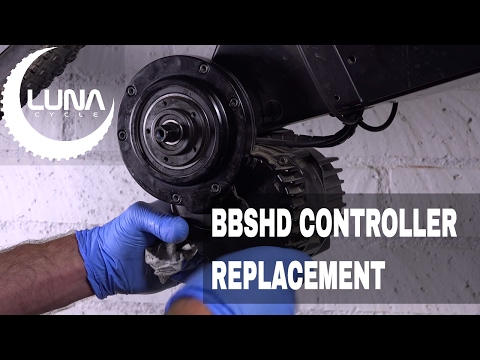 Additional mods and install details:
This would be a good time follow our waterproofing steps as described here. A little dielectric grease or silicone on connectors and gaskets can be very useful to help protect your components and ensure they last a long time.

Depending on how hard you are riding you may also want to open up the casing while you have the motor out, and replace the stock nylon primary gear with our steel version.This will be better equipped to handle the extreme power that this controller puts out.



Replacing the controller is easier if the chainring is removed, so if you plan on changing your chainring size, this is a good time to do it.





It's worth mentioning that the Ludicrous V2 can extend the top speed by about 25% for the same battery voltage, so you could get more torque from a smaller chainring while keeping the same end speed.
Note that there is no shift sensor cable installed. If you really want it you can use one of the brake cables, or a Y splitter.
Using the BBSHD Ludicrous V2
The controller works out of the box, its plug and play with no tuning needed.
It is designed to work in the same way as the stock controller: throttle accelerates, it has pedal assist, you can choose your power level and the display shows the same variables.
Because it's the same principle with a lot more power, here are few suggestions:
Check the maximum current you can draw from your battery.
If for example your battery can only provide 80A, set power level to 8 (more info about power levels below)
If your display is set at the maximum power level, be careful the first time you use it. In a low gear it can kick you off the bike.

Be mindful about the amount of power dumped into your motor. If you drive high currents for too long the winding temperature rise will engage the motor over temperature limit.
Changing controller parameters has been disabled in our firmware builds, for safety you won't be able to change any motor related setting like max currents, temps, control loop parameters, etc.
The complete set of motor parameters is hardcoded at build time so it works out of the box and stays that way. We do acknowledge that a motivated user could build the open source firmware, but its not recommended as its easy to damage a controller if tuning is bad.
Power Levels
The BBSHD platform allows the user to set assist levels, typically 5, but some displays can be configured to use 9 levels.
When set to 9 levels, it modifes the torque (or phase current) produced by the bbshd in the following way:
| | |
| --- | --- |
| | |
| | |
| | |
| | |
| | |
| | |
| | |
| | |
| | |
| | Throttle and PAS disabled |
Connecting to VESC Tool
Get the LUNA Edition VESC Tool app for Android here (uninstall previous VESC Tool if you already had it):
Download the app installer
Here is a video tutorial to cover the basics of the connection:
WIRELESS CONNECTION - VESC-Tool Mobile Tutorial




1. Open the VESC Tool App and tap

SCAN




2. When your VESC shows up, click CONNECT. Note there may be more than one Bluetooth Low Energy (BLE) device in the air.




3. Your BBSHD is now connected!




4. In the RT DATA tab you can see live information coming from the controller
VESC Tool is also available for Linux and Windows PCs here:
VESC Tool Downloads
The app will NOT run on IOS smartphones because Apple doesn't allow open source licenses in their App Store.
Vesc Tool on Mac laptops is not officially supported, but someone provides unofficial Mac releases here:
https://github.com/rpasichnyk/vesc_tool/releases
We didn't test these so use them at your own risk.
Tuning Pedal Assist settings
At the maximum assist level, throttle will always produce 100% power. However, the maximum amount of pedal assist power can be configured independently.
By default the Ludicrous V2 will provide 35% of the max phase current, but if you want to disable PAS you can set it to 0% and PAS will be disabled for all power levels.
Using Profiles
Although for your safety the critical motor config is set as read-only, there is a way to modify some basic parameters of the Ludi V2 controller using Profiles.
Speed, motor current and power output can be tuned.
Typical applications:
If your battery can't handle the power you can limit the power output

You can create a Street legal profile that limits the speed and output power to comply with regulations.
In the PROFILES tab, you can ADD PROFILE
Firmware update
Here is a general tutorial about updating VESC firmware:
Uploading custom firmware files
Updating the Firmware
And a video tutorial as well:
FIRMWARE UPDATE - VESC-Tool Mobile Tutorial
Get the latest BBHSD controller firmware from Luna Cycle. The file name is

VESC_BBSHD_XX.bin

Download it here:
https://public.3.basecamp.com/p/RN8u...gF5CzFziBkcNEn

3 different firmwares are available for 3 different battery types:


52V Wolf:

14s
12Ah
70A max battery current


52V Dire Wolf:

14s
21Ah
105A max battery current



72V Power Wolf:

20s
9Ah
60A max battery current




Luna will let you know when new firmwares are available

From the app, go to FIRMWARE tab, scroll down to Custom File and tap on CHOOSE FILE

Start UPLOAD

Read and accept the warning

Wait some minutes until upload finishes
Make sure the phone is close to the controller and don't shut down the bbshd while firmware is being updated.
We will let our users know when we develop new features or improvements to the firmware. We plan to email the latest .bin files so users can update the controller.
Some reasons for updating the firmware may include:
Bug fixes

New features

Tuning optimization

Power increases

Changes requested by the users
Data logging
With a VESC controller you can save realtime data logs on your Android phone, and study the logs on your computer.



1.In the DEVELOPER tab, choose a log directory to store the .CSV files, and enable RealTime Data Logging

2. After logging, send the CSV files to your PC.




3. From VESC Tool, Go to Data Analysis -> Log Analysis.




4. Open CSV




5. Browse the csv




6. Configure your variables to display.





Here you can find a video with a walk through this Log Analysis feature:

https://www.youtube.com/watch?v=1dm12zB78Ic
FAQ
What is the little white wire coming out of the controller?
That is the antenna for bluetooth.
What is the micro USB port for inside the controller?
That is for a PC connection.
I just got it and want more power?
Please note that the levels usually used for pedal assist control throttle response by default, unlike stock BBSHD. If you want more power, select a higher level.