UPDATE: We now have a video showing this.
Highly recommended if using gearclamps as shown in video to use both of them to hold cassette in position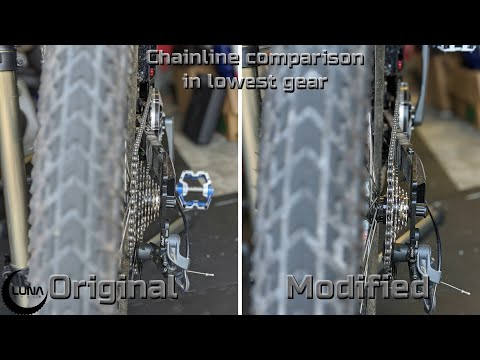 Here's a photo show and tell about the wonderful rear cassette modification I've learned from other mid drive users.
Standard 9 speed rear derailleur and the resulting poor chain line connected to a single front ring:
The straightest and best chain line is somewhere in the middle of the cassette gear cluster. By the time you reach granny or greyhound positions the chain is suffering a fairly extreme angle.
Do we need all those gears/cogs in between the High-Med-Low ranges? Nope, those are needed with human legs looking for every ounce of efficiency they can scrape together. When you tug 1500W of battery power on the chain the need for "narrow" bicycle ranges becomes unnecessary.
And who wants to spend all their time shifting? These modern and robust BBSHD drive kits can jump 10 teeth at time without any problems or stress. What we really need for them is 3-5 wide gear ranges.
So in this example I'm going to rework 3 gears to 14T, 24T, 32T or High, Medium, Low gear ratios.
We start with a basic 8 speed cassette gear cluster. I like cheap steel Sunrace 8 speed gear sets as they most often don't use rivets to hold the gears in shape:
Even if you do have rivets, they can easily be ground away so that disassembled looks something like this:
Don't worry about keeping them in order because it seems they'll only assemble correct orientation on the cassette spider: