Luna DPC-18 color Display
Display Features:
Full Color Display
Automatic Night Mode (with customizable light sensitivity)
Choice of Percentage or Voltage display for Battery (goes up to 60V)
USB Charger
Accurate battery gauge
Watt OR Amp Display to gauge how much you are pulling
Clock
Password Lock (only locks the screen, motor will still work)
Error code list and memory
Waterproof
No more advanced menu, simpler interface.
New control pad
5 levels of assist.
Why upgrade?
It's well made, brackets are sturdier and will fit over wider/bigger MTB stems.

Looks better too, easier to the eyes.

Waterproof, DPC-14 was barely rainproof.

Higher visibility compared to the DPC-14 and has auto nigh mode.

No more advanced menus with passwords, better interface.

VOLTAGE GOES UP TO 60V! finally a accurate voltage meter.
---
​
Video walkthrough :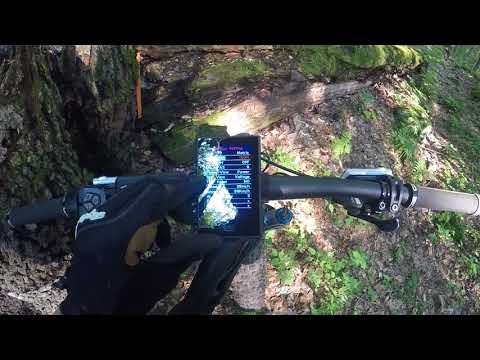 ---
Specs:
92mm x 57mm
compatible from 22mm to 32mm handle bars (includes rubber spacers)
3.2 inch diagonal screen
Glossy plastic screen
Waterproof IP65 (protected against small water jets, USB cap on)
USB Charger 5V 500ma MAX, not recommended to power head lamps
---
How to use it:
Hold the power button for 2 sec to power up, hold for 2 sec to power down
Hold the headlamp button to force night mode
Hold the "-" button for walk mode (motor will run very slowly to help you walk)

Use the "+" and "-" to select the PAS setting (can be set 0-3, 0-5 settings)* Previous versions had 9 levels, newer displays have 5.

Press the "i" button to cycle from ODO, TRIP, MAX speed, AVG speed, TIME.
Double press the "i" to access the settings.
Set speed limit in display above 30MPH if you want display to show watt gauge higher than 750w
---
Main screen:
---
Settings :
Double press the "i" to access the settings. Once in the menu you will see display and information,
Information tab:
To see stored error codes and battery information (NOT USED)
Display tab:
You will get this, move up and down using the "+" & "-" and select with the "i", then when highlighted change it with the "+"or "-", confirm your selection with the "i" button again.
---
WARNING:
If you are using this LCD with a 52V battery the fuel gauge and the % level will not be accurate at all, they will both show full till you have 30-40% left. This can play trick with you, can make you think you are charged when you are not or can make you think the battery is defective. Even on a 48V system the fuel gauge is not the most accurate.
So we recommend you set the display to SOC voltage and not percentage. Check our voltage charts here if you are unfamiliar with voltage levels:
CLICK HERE
---
NOTES and RECOMMENDATIONS:
Even though it's IP65 rated, we do not recommend using a garden hose or pressure washer directly on the LCD.
The display is not waterproof if a USB wire is plugged in.
It's only capable of suppling 500ma (or 0.5a) so do not use it to power anything that requires more. No warranty on the USB port if used incorrectly.
Do not trust the Password lock down, I could actually use the throttle while it's locked.
The range function and any other battery info related functions will require a special BMS that is not available.
Use the voltage mode instead of the %, it will be more accurate, you can use our charts here to guide you :CLICK HERE
---
Trouble shooting:
Error codes :
https://electricbike.com/forum/forum...ouble-shooting
Dead LCD:
https://electricbike.com/forum/forum...bbshd-or-bbs02
Random issues:
https://electricbike.com/forum/forum...t-still-moving
---
OFFICAL BAFANG MANUAL (edited for BBSHD/02)