IF you would like to replace your wonky % meter on your Sur-Ron but don't want to open the battery or would just like to rely on voltage to get a more accurate reading then we have a simple fix for you.
Installs in no time, no need for any electrical tools, just need a plier, Allen key, blade and pick (or flat head screwdriver), if you break it you can replace it for a couple $ as they can be found online anywhere.
Since my % meter is not super reliable in cold temp and when I ride hard I wanted to add a voltage reading. I initially wanted to have a watt-meter (for Wh, Ah and wattage) but I could not find a good watt-hour meter to suit the high powered Sur-Ron that would fit inside the frame and have a small display. So I went to basics with a since voltage meter, accurate enough for the Sur-Ron and visible at night & day.
Facts:
No parasitic drain. When the ignition is off the display is off.
Turns on when you turn the ignition to ON and backlight stays ON
Shows voltage and all offers a bar type capacity meter (visual representation of the voltage)
Programmable for a 60V Sur-ron battery
Weather proof from the top but the bottom is not (unless you add silicone)
You will need: pliers, blade, Allen key and flat head screwdriver (or a pick, something pointy)
Luna voltmeter kit:
1) Remove the battery cover:
Open the cover and locate the cir-clips holding the 2 pins in place, pry it off using your screwdriver or a needle nose plier (make sure to pry it off from the opposite side of the opening, like this following
pic). Be careful as they can fly off if you use a screwdriver!
2) Finding the right place to install the display:
I didn't mind covering the battery % as I don't need to take a look at it while riding but if you mind you can install it a little lower or anywhere you see fit.
So I made sure that I could access the the connector from the bottom
Then I wanted the display to sit flush or recessed into the battery top so I cut down the side tabs with a blade.
Once done it should look like this:
Sugru time:
I'm a big fan of moldable plastics so I went with the
Sugru brand
as it works great.
So clean you battery top and display with alcohol to remove any trace oil and grease . Open one packet of Sugru at at time and work one of the 3 areas at a time; top right top left and bottom. I didnt put Sugru over the little programming button and not over the power connector incase I need to disconnect it.
Note: You have about 20 min before it gets harder so please keep this in mind when you start your project. Sugru fully cures in 24 hours so do not touch it until then.
3) Electrical connection
Turn the main breaker to OFF position
Remove the 2 Allen head (hex) bolts holding down the ignition and USB plate.
You have 2 wires out of the display (red and black) you will need to connect the red wire (from display) to the Red cable with a black stripe (coming out of the ignition).
Then you will have to connect the black wire (from display) to the green wire of the USB module.
Use the T-Tap connector to splices the wires together, if you dont know who to use it ,
just click to link
or search on YouTube for T-Tap connector:
Now you are done this is what it should do when you turn the ignition ON. Forget the voltage shown on the video it was connected to another battery.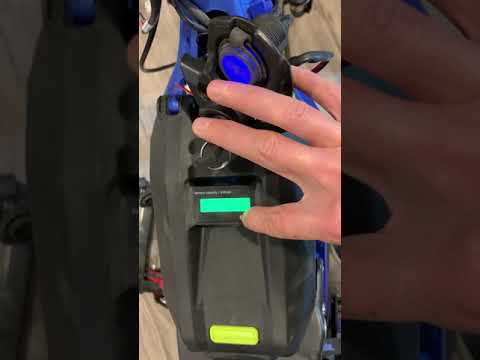 4) Voltage reading
If you are new to voltage on Li-ion battery please take the time to check this out, a fully charged 60V battery is 67.2V (or close to) and about half full at 60V and empty at 48V.
Voltage will fluctuate when you draw power out of the pack so don't be surprised when you see a couple volts lower as soon as you hit the gas and see the voltage rising when you let go of the gas . It's called voltage sag! It's always best to take a reading when the bike is either costing, not using power or resting (anyways you should be looking at the road not at your display).
---
Want to program it?
This meter will read voltage accurately right out the box but if you want to program it, that is possible.
S1:%/V Rotate display in 2s
Power percentage and voltage are displayed in turn recurrently and automaticall
S2:Inactivity sleep in 10s
Automatically sleep after battery capacity display for 10 s, save power, press the function key to wake up power display for 10 seconds;
S3:Turn on backlight
Power display turns on or off power backlight;
S4:Show logo(Applicable to small battery icon)
Logo icon is located in the underface of battery symbol on the left side of LCD, turn on and show the logo;
S5:Discharge mode selection
Power displays two kinds of battery discharge curve, different environments convert to select appropriate battery discharge modes;
Setting procedure
1. Disconnect the module power supply, press and hold the setting button until powering the power module. Display shows the current power setting parameters;
2. Press the setting button to select P / L / F ,(P = 12V lead acid, L = 3.7V lithium battery, F = 3.2V lithium iron phosphate battery);
3 press the function key to set the number of the battery string, according to the function keys and set the key up or down to choose the number of batteries in series;
4. Press the function key for a long time to enter the advanced setting interface, use setting key to select S1-S5, enter key to select or cancel the current mode;
5. Reenergize the power after setting. The power automatically saves setting data.
E.g. 10 lithium battery power, turn on power percentage and voltage automatic rotation display (S1 mode)
Operation: Disconnect display module power, press and hold the setting button, power the power module, press the setting button for a short time to select L, press the function key to select 10, press the function key for a long time to select S1 and re-power.