From time to time I'll add to this thread, and I'll try REAL HARD to keep the airplane stuff to a minimum, for those with no interest in that type of foolishness. For those that don't know, I specifically converted my long time Montague ride, (I've had 2 in the last 18 years or so, almost always carried on board the plane, a good trick as this is a very small plane), in the hopes that I could expand my cycling range while on the ground. It has exceeded beyond my wildest dreams.
Yesterday's flight/ride was pretty mild, always within cell coverage, on a gravel road not a trail, landing at a airport....other flights will be way out there, far from cell coverage point being, and include pretty technical off airport mountain side landings at places no one has landed a plane before as a prelude to the bike ride itself. I've been doing that kind of off airport flying for years, with the bike, now it will just be with the E bike. Still getting a handle on my range, I decided to, for the first time, take two of my Panasonic 11.5 AH PF 52 volt batteries. For the 100 mile flight to the small old mining town where the ride up to the abandoned mining camp would start, I decided to carry the spare outside, taped to the jury strut. My usual battery, in it's padded bag and wrapped in a piece of NOMEX fabric, I carry on the plane's floorboards under my seat. I can keep an eye on it there. There will be times when I will be carrying all three of my batteries with the plane, and the two spares will be carried outside, keeping any risk at a minimum, but enough about that, let's get to the fun part.
The town of Mackay is at the foot of the biggest and baddest range in Idaho, the Lost River Range. Real popular with soaring pilots and mountain climbers, and many special op teams have trained there (it's similar to Afghanistan being the reason). I landed on the gravel on the side of the paved strip, my usual practice as I like to baby my expensive fat tires (3.5 lbs pressure) as much as possible. The bike took the usual 3 minutes to get out and roadworthy, I am so amazed every time that happens! Now that it includes the added performance of the E conversion, it's really almost too good to be true :twisted: The flat valley floor is at 6,000', and I'd be riding up to maybe over 9,000', depending on the snow pack. Here is where I was going:
http://eofp.net/mackay.html
, to the Mackay Mine Hill ghost town. I put the spare battery in my backpack along with my tire pump and a quart of water, the all up weight was tolerable, but on a longer ride I may think differently, we'll see. I used PAS from 1 to 2 throughout, with just a little 3 (I have mine setup 1-5 levels available). This early in the season, and during the work week, I had the road to myself, and maintained about a 10-12 mph average speed until the constantly increasing grade made slowing down a bit make sense. I didn't have to...I was just babying the battery. I am still deep into the process of getting a handle on speed v. range, it's all part of the fun for me, and on a beautiful day, in no hurry and with great scenery, I LIKE going slower.
I made it up to about 1600' above the valley, and then hit the snow level and that was all she wrote. With the fat bike I could have kept going for a bit, but even with that, the rotten (real mushy) snow would have been a bitch on the way back down. After poking around through a few of the old buildings and looking into a mile long mine shaft (big signs: "DO NOT ENTER DANGER OF CAVE IN'S", like you would WANT to enter....) I turned it around and had a great 35 to 40 mph ride back down the grade, exploring a few off shoot roads on the way. After the juice disc brakes on my Sturgis Bullet, the rim brakes on the Montague seem pretty wimpy, but they work well enough I guess. After making it back into town, I made a few victory laps on the main drag using just throttle while holding a cup of coffee in one hand, to give the locals something to think about. It turns out I had used less then 450 watts out of my 600 watt battery, I was real happy with that as on the smaller off shoot roads I went up while on the way back down, I used throttle only and a lot of it. Plus, the battery in the back pack had been no big deal, I forgot it was even there. Even better, when I got home (by noon, without the plane's help this would have been an all day event and I had to work later that day) the guy in the big Brown Truck had left my new seat post rack in the shop. As I can't have any permanent racks on the Montague that would interfere with the folding, and since I already pull the seat before stuffing it in the plane anyway, a seat post rack makes perfect sense for me.
I cold formed the tip up the rack top had at the rear with a rubber mallet, ( I love that term, it sounds so much more technical then you just beat on it) and the 6.5 lb. battery fits perfect with quick and easy tie down spots for my web straps. When on the bike the rack bracket is snug down against the bike's frame, so it can't go anywhere. Wrapped in some high density foam I had laying around, I tried it out yesterday on a 7 mile ride, leaving my usual frame hung battery bag at home, I couldn't tell it was there. So, now I have my setup for epic rides:the usual frame hung battery, one spare in the pack, and the spare spare on the rack. Especially as most if not all of my rides (to date anyway, with my increased capability this may change) start low and go high, running out of juice is no biggie, gravity is on my side! I'm pretty sure by the time I run 3 batteries out, I'll be ready for a break anyway, I'm real pleased with the range I seem to have on even a single one. I realized the other day that I am re-calibrating my eyeball: when I over fly someplace with the thought of riding to a ground destination after landing, I now take in a MUCH larger area, and it's STILL easier and quicker to get there then before the conversion, it's hard to over emphasize the feeling of empowerment and all around increased utility this gives my little kit plane operation, it's like I have a new super power!
The airstrip is down to the right about 1.5 miles, the grade is consistent as you can see.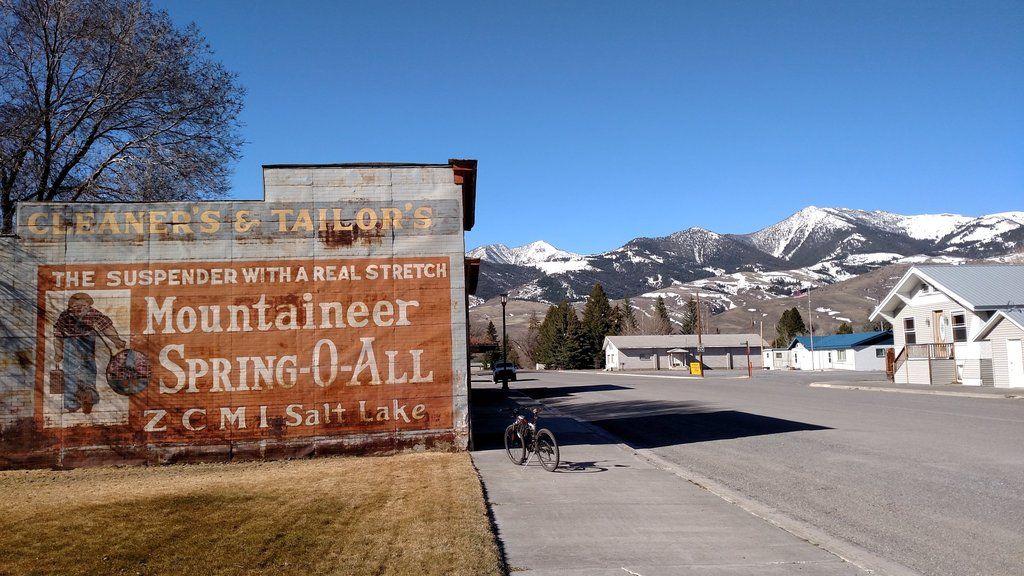 The kit plane I've been flying for over 3,000 hrs now and the Montague, quite the pair!
The end of the road for this trip. The road continues up several more thousand vertical feet! I'll hit it again when it all melts.