I'm not sure if this is one problem or two.
Very new Bafang 750W BBS02 with 48v battery.
Initially, it worked perfectly, then one day it decided to provide much less power than normal, AND for that power to fluctuate wildly despite only a steady pedal input.
Ref the video below. This is me riding a trail at my normal cadence. The trail is only very slightly uphill and is 100% consistent. There are no rises or falls in the time the video was taken over, and my cadence and input power are consistent the whole time.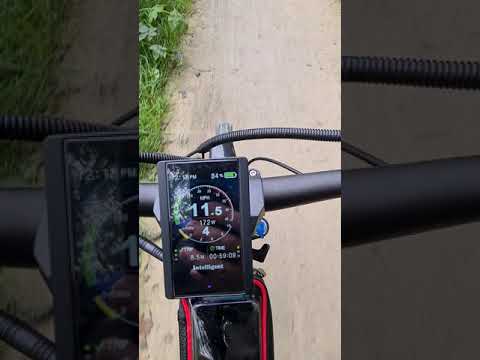 This is the important bit
. Before the problem arose I would be able to cycle this trail at power level 1 (of 9) at around 12-13 mph consistently using around 250w.
Since the problem started it has always been as shown in the video.
As you can see, in the first part of the video, I'm having to use level 4 (instead of my normal 1) just to maintain around 11-12mph. That is problem number one in my head.
Secondly, the power level fluctuates wildly from around 45w to over 500w despite nothing else changing.
In the second part of the video (00:38) I increase to level 5. I instantly get a surge up to nearly 1000w, but it then drops back to just 60w and starts to fluctuate again, enabling me to travel at around 13mph. Remember, when I first had the motor installed, I could travel at this speed on the same trail using just level one.
I do not have a throttle connected, but the connector is sealed and dry, as are all other connectors. The brake and gear change sensors appear to work correctly, as power is cut completely if any of them are triggered.
I have carried out a system reset, but that made no difference to the issue.
I don't know if this helps or not, but if I'm cycling along and the power has dropped off, if I brush the brake lever (triggering the cutout), the power will always come back at full power, before decreasing, then fluctuating as before.
If anyone could point me in the direction of the most sensible things to check, that would be great :-)
Thanks :-)